blogger
, half-time scrapbooker and full-time mom.
"Nat Noted" will be coming to you every week on this blog. I'm so happy to be able to share all of the interesting paper crafting ideas, tips, tools, techniques, and other cool things that I find online. I would love to hear of any sites or blogs that you keep up with.
So without further ado, here are 12 of things I found online that I had to share with you. I hope you like them!
1. I love the cover of
this mini-album
. Kerryn Lawson did an awesome job painting and distressing the chipboard to make it look like a weather-worn metal gate.
sketches on their blog
. This time they posted a sketch by designer Susan Stringfellow. Her
blog
is full of great sketches too! I love this one because I love double layouts.
Photo credit: Susan Stringfellow/Basic Grey
3. Love this card!
4. The ombre trend is popping up everywhere.
Zoe Nemburt aka Ceydaboo
has a great post on how to create this look with Glimmer Mists. If you have every shade of blue, pink and purple Glimmer Mists -- and I
may
have more than a few colours in my Glimmer Mist collection -- the ombre look seems pretty easy to achieve. Love Ceydaboo's canvas. 
Photo credit: Zoe Nemburt/Ceydaboo (From the Inside Out)
5. Starbucks has a Pumpkin Spice Latte and Lily Bee Design has an Autumn Spice collection. I can't wait to get my hands on both! Love
this great layout
by Lisa Dickinson featuring this great collection.
Photo credit: Lisa Dickinson (getting by)
6. I've made a few mini-albums and have even started an art journal. Minis make great gifts. Kids love making them. And they're a quick way to get your pictures into an album. Plus, they're short and sweet like me. ;-) But rarely do I see binding that is this beautiful.

7. The new Studio Calico wood veneer embellishments are fantastic. Not only are they cute, but I just learned how to use them as masks when misting. They're also made for colouring and stamping. Love how Julia Stainton transformed
these wood tags
with stamps.
Photo credit: Julia Stainton (Belle Papier)
8. Confetti is trending right now and it looks great on layouts and cards. I love how
Paige Evans
used flower confetti to frame her layout. Isn't this wonderful? 
9. Donna Downey is showcasing altered brushes in her studio and on her blog. You have to visit her blog these to see these amazing brushes. Her
last post
included so many good ones. If I
have
to pick a favourite, it would be this one because "I am enough" resonates with me right now.
Photo credit: Croppin' Spree (Donna Downey - simply me)
10. There were so many great Hallowe'en collections released at CHA, but the Lost and Found Hallowe'en from My Mind's Eye was my favourite. I don't know if it was because of the soft orange in the paper or the bling or the embellies, but I just loved it and can't wait to use it. Found
this cool pennant
from Thienly Azim.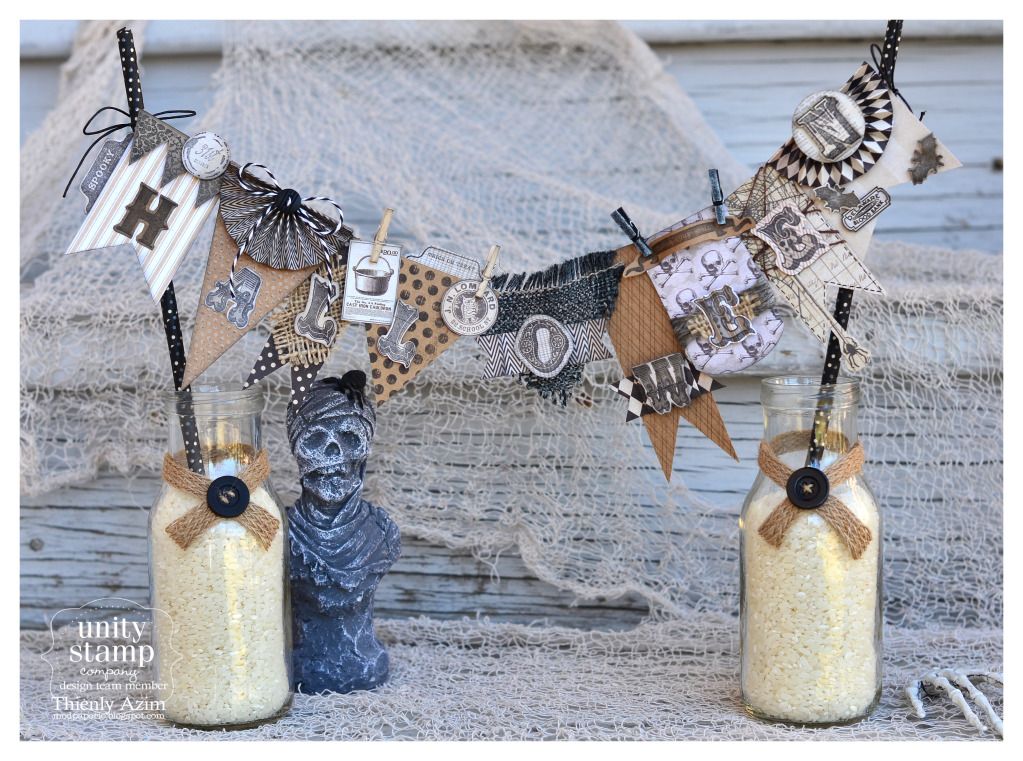 Photo credit: Thienly Azim (Mod Paperie)
11. My Mind's Eye just released a new collection --
Lost & Found 3 Ruby
. Featuring a gorgeous palette of pink, red, gray and cream, it's easy to imagine using this collection in Christmas layouts. But I think it would work well for everyday moments, picnics and Valentine's Day. I think it's gorgeous!
Photo credit: My Mind's Eye Blog
12.
Stephanie Ackerman
makes some beautiful art. I believe she's coming to Canada in 2013 to teach. I hope she's close to Ottawa so I can take one of her classes!! I love her "love."
Photo credit: Stephanie Ackerman
I hope you loved the first Nat Noted as much as I loved writing it. See you next week!